Apprenticeships
Our exciting apprenticeship is ideal for someone who is looking to begin their journey to becoming qualified in the Telecoms industry and who wants to develop a long-term career with an ambitious Telecommunications provider.
Meet one of our Apprentices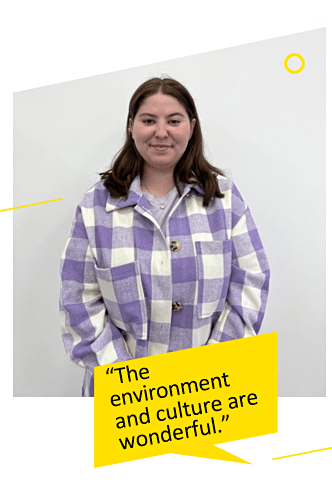 Paige Kotsis - Security Engineer Apprentice
What made you join Trooli?

I joined Trooli in 2021, after searching for an apprentice role with a Technical Services team, I Interviewed with Trooli and another company and was offered both roles, Trooli had the best recruitment process, they were responsive and friendly so I decided to accept the role with them, I am really pleased that I did, it's the best thing I could have done!
Tell us about your role in Technical Services
I am a Security Engineer Apprentice in part of a small team, my daily tasks are things like, checking emails and firewalls to keep our data safe and secure. I conduct company clean ups and check people's permissions to ensure that everyone has the correct access to folders and files and to mitigate any security risk. Recently I have started working on MDM policies, testing, and implementation which has been interesting, my Line Manager has been working with me on updating our existing policies to ensure that these comply with all new and upcoming legislation. I am also allocated 1 hour per day to complete my apprentice course work, which is supportive as I am always on track. My course work is all completed online, for each topic I must pre-learn the content, put my learnings into practice and build a portfolio.
What is it like to work at Trooli?
Honestly, it's amazing, my Line Manager is a big support and works with me to prioritise my course work and day to day duties, the entire team are so helpful and supportive. I started with Trooli after I left school, so it was pretty daunting, as it is my first job but I didn't need to worry, everyone is so kind, they genuinely want to help and all share a common goal. The environment and culture are wonderful, I couldn't ask for a better place to work, plus I get paid!
"It's not just a great place to work, it's a family within"